File Management Automation
Visibly and centrally control file processes without scripting. Speed and security for your file automation
Central File Automation for SAP and nonSAP
Especially predictable, regularly recurring file processes lend themselves to automation. This relieves your staff, hence manual interventions will be a rare exception. With File & DataManager by BatchMan you can manage all files to be processed in the system landscape of your enterprise thus ensuring secure processing.
Why automate File Processes?
File & DataManager offers workload automation by file management. The integrated monitoring function makes each file processing step visible. This way File & DataManager smoothly integrates into your process chain thus making all operations traceable at any time. By using File & DataManager, you can ensure transparency, traceability and long-term security with a fully automated function.
Processes file jobs up to 70% faster
Manual operator actions are eliminated almost entirely
Swift installation and use: can be used within one day
Continuous monitoring and alerting
Workload automation is independent of protocols und interfaces.
System Architecture File & DataManager
The cross-system, central administration of File & DataManager (FDM) enables a comfortable and controlled data exchange. With the integrated monitoring function every step of the file processing becomes visible, thus you can understand all the process steps at any time.
Transform your Business Processes Today:
Central administration and control
Transparency and traceability of the data processes
Transfer any files, formats and sizes
Protocol independent modules for all file commands (copy, delete, move etc.)
Central interface management
File interfaces have become safer and more transparent. The interface managers in the departments have more confidence in the file services, and thanks to the convenient set up of SMB/FTP connections, it is now easy to create file interfaces into BatchMan jobs and E2E connections.
Maintain Complete Control over your File-Operations at all times.
The cross-system architecture enables you to execute each step between any linked systems. File & DataManager functions are scalable, even with highly frequented workloads.
No additional Software required
No additional hardware required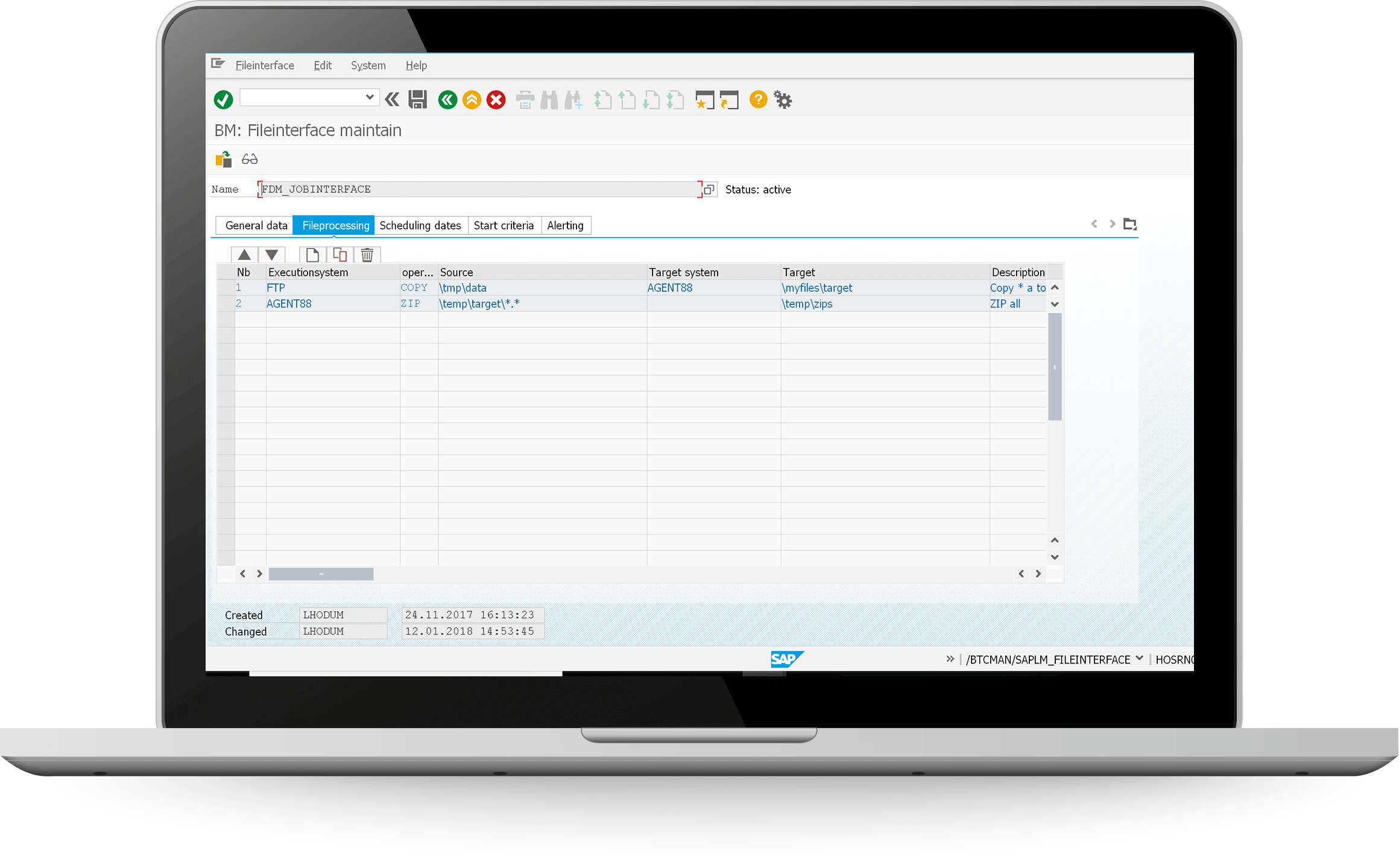 Control your entire file-processing-process from one single point:
The File & DataManager file interface co-ordinates how the system runs every single process step, therefore it is disconnected from normal scripting.
File operations without any scripting:
FDM translates the supported file operations for you and thus automatically translates the protocol/system command needed.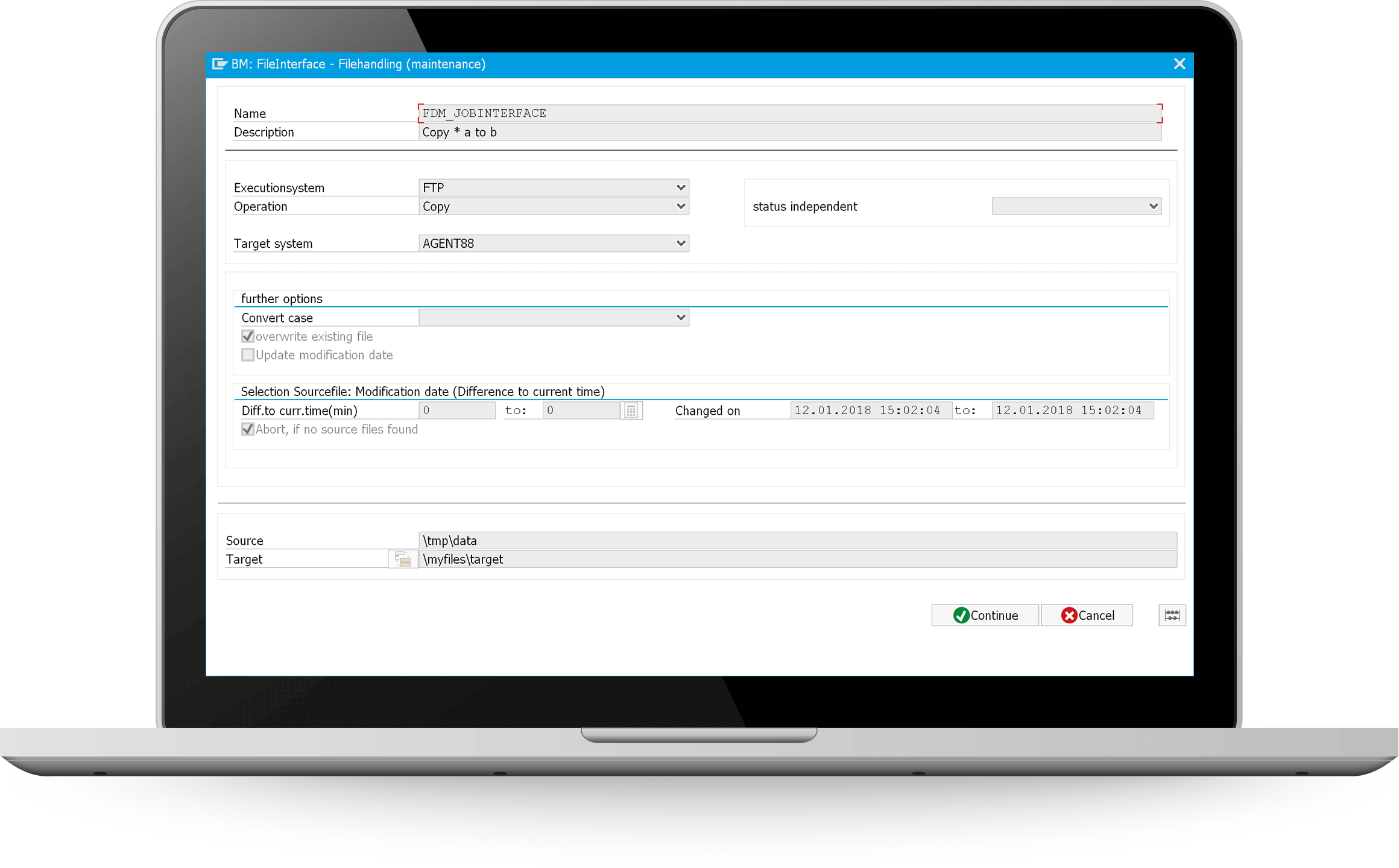 Definition of processes with freely configurable start criteria:
Plan your process for dates that can be configured in any manner. You can also define conditions, such as file dependencies (also content-based), starting time or resources.
File & DataManager Monitoring and Alerting
File & DataManager monitoring as a cockpit for all process information. With File & DataManager you always keep track of your file management. 
In case of an error, you are conveniently informed via alarms: thus, you always have everything in sight and in full control.

Live monitoring of your process:
Follow the progress and status of your process in real time.
All information is available centrally:
You can actively look at logs and changes using monitoring.
Always up to date through status-dependent alarming
You can have the system send alarms to predefined groups depending on the status. Here the system generates the message based on a template.
Link any third-party systems:
Link the File & DataManager with your ticket system by using alarms, such as for files, web services or e-mail.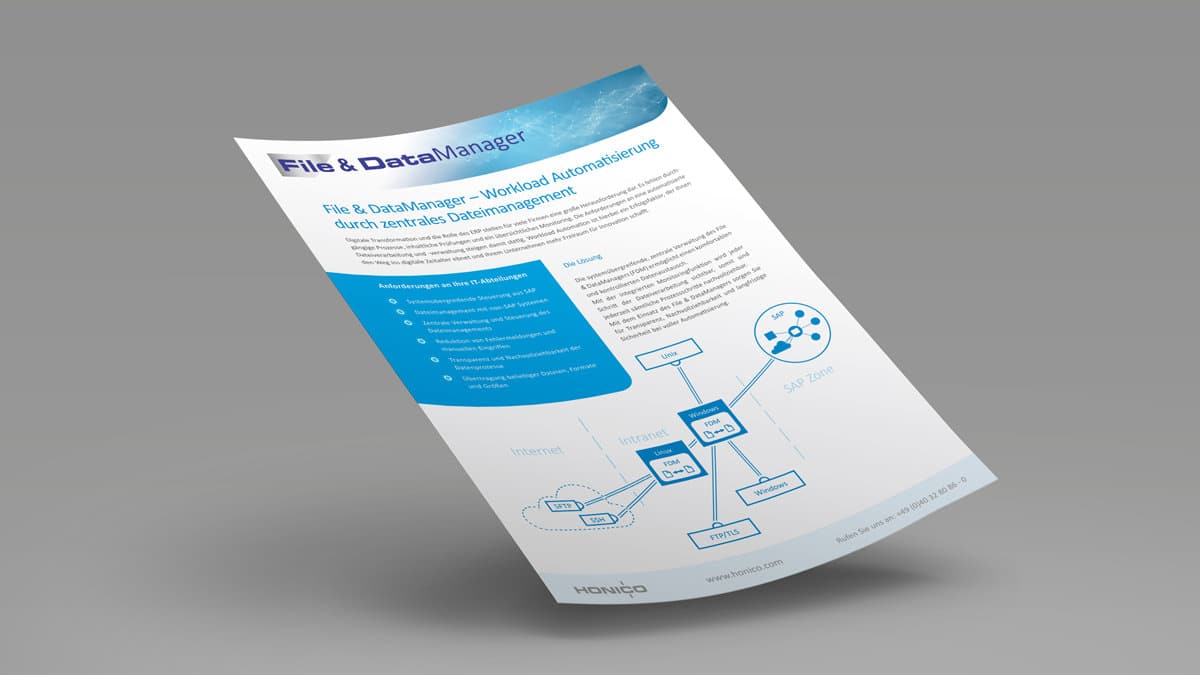 File & DataManager Product Datasheet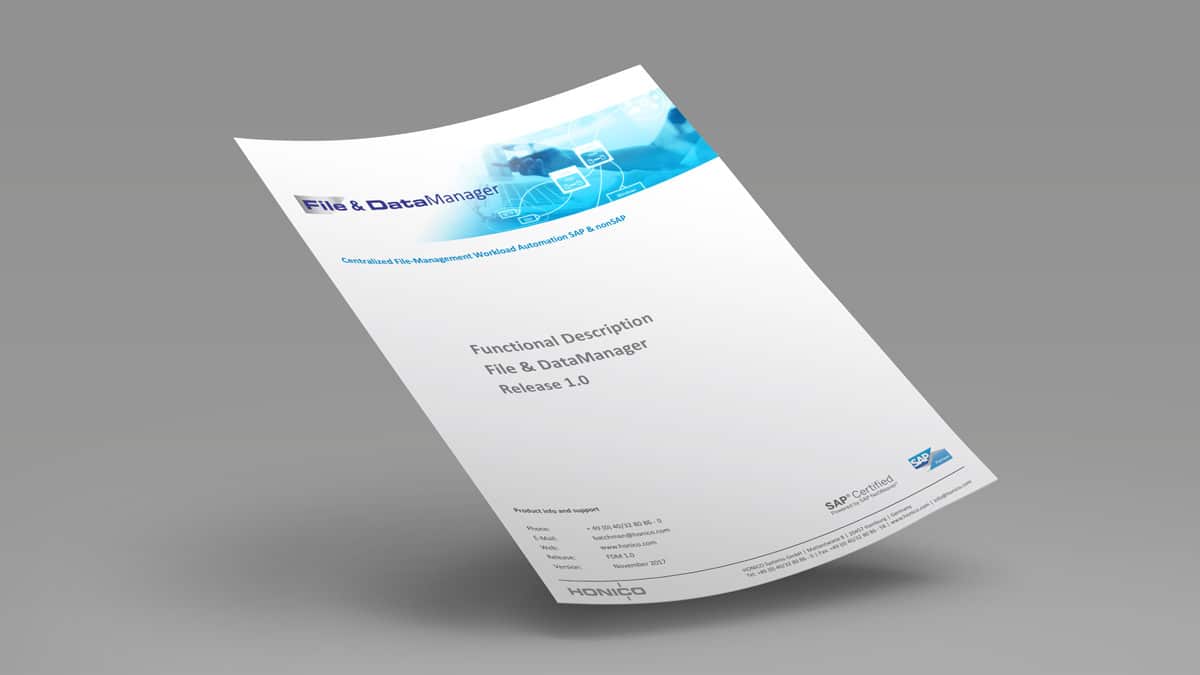 File & DataManager Functional Description
"The manual interventions have been massively reduced compared to the Perl scripts. The tests are simpler compared to the original Perl processing."
Project Management Operations SAP Services of a leading Swiss Logistics Company
BatchMan is certified by SAP as an ABAP add-on for SAP NetWeaver, runs on every platform released by SAP and is available for all releases.