What does Hybrid Cloud / Hybrid IT mean?
Hybrid cloud describes the approach that companies organize their IT infrastructure with different cloud models, the so-called private, public and multi-clouds. Hybrid Cloud is often used synonymously with the term Hybrid IT, but Hybrid IT integrates not only the cloud environment, but also local on-premise environments, as well as certain IT services in the cloud.
The hybrid organization offers companies the benefits of both 'worlds': centralized, internal management and cloud computing.
When combining cloud services such as SaaS, IaaS and on premise through, for example, internal data centers, the biggest challenge is the fluid, cross-system collaboration of the hybrid landscape. The IT structure of the respective company specifies, for example, that certain business-critical processes must be located locally in some cases. This may be based on data protection regulations, among other things.
What needs to be taken into account with Hybrid IT?
Many factors play a role here, such as availability, governance, manpower and, of course, cost efficiency and competition.
In addition, IT agility and digitization are crucial, i.e., how quickly companies are able to adapt to external conditions. The COVID pandemic is a good example: a pure on premise IT environment prevented many companies from remaining competitive in the initial lockdown, and a digital strategy became more important than ever. As a result, most companies are relying on a mix: the combination of on-premise, private and public cloud. But these also need to be deployed wisely and cost-effectively, and orchestrated between platforms. Here's a brief overview: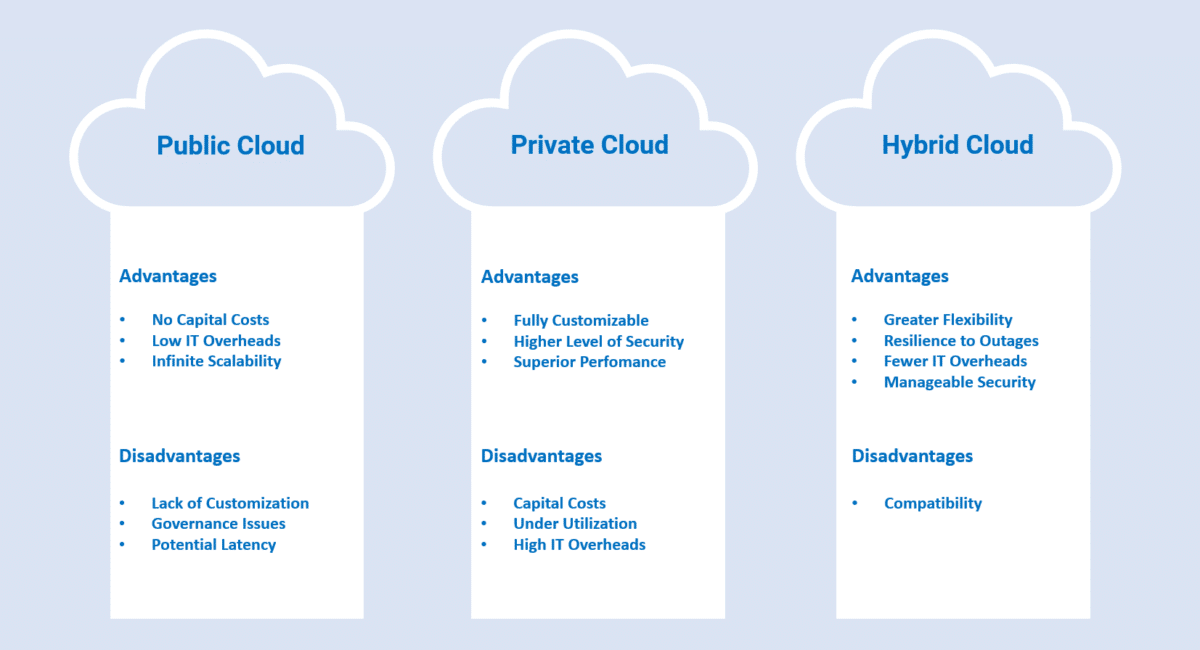 Advantages of a Public Cloud
With the public cloud, the cloud resources are offered by a third-party provider. These can be SaaS (Software as a Service), IaaS (Infrastructure as a Service) or PaaS (Platform as a Service). Providers are, for example, Microsoft Azure, Amazon AWS or SAP S/4HANA Cloud. The advantages are low investment costs and scalability. The end user does not have to worry about maintenance or infrastructure. However, there is also a lack of control over sensitive data.
Advantages of a Private Cloud
Private clouds are again cloud environments that are exclusively reserved for a single end user or group. As a rule, the environment runs behind the firewall of this user or group. As soon as an enterprise gets isolated access to its cloud, it is called a private cloud. A private cloud infrastructure offers more security in storing sensitive data, but also more effort for operation and maintenance. The responsibility of managing the cloud, as well as the acquisition costs, are significantly higher compared to the public cloud. Providers are e.g. RISE with SAP private Cloud Edition, AWS, Azure or Ventus.
It's all in the mix: Hybrid Cloud
This is why most companies rely on hybrid IT in their IT and digitization strategy. Business-critical applications are partly kept locally, i.e. on premise, because the infrastructure dictates this if necessary. Public clouds are increasingly being used due to low costs and scalability, and private clouds for more sensitive data. Depending on the workload, data or processes can also be adapted to new requirements again and again through the hybrid environment.
The cloud strategy can therefore be seen as an 'on-going' process: the evolution to the cloud is not a one-time process, but one that continues to evolve as new organizational and also technological challenges are constantly added. Thus, each new cloud adaptation brings new stumbling blocks along the way, which can be very labor and time consuming. Therefore, it is necessary to ensure that all critical tasks do not have to be adapted again and again.
How Automation can optimize your Hydrid IT
In hybrid landscapes, it is essential to orchestrate the entire environments. To keep the manual effort low and also to avoid errors, modern workload automation offers the possibility to orchestrate tasks and processes across systems.
For many organizations, the need for more cloud capabilities drives the spark to switch to a new WLA software, and many of the products have stepped up cloud support in response.

Enterprise Management Associates, Inc.,  "EMA Radar Report for Workload Automation Q4 2021"
Service providers such as AWS and Google have already integrated their own schedulers, but these are only natively designed for their own platform. In other words, the clouds work in silos and do not communicate with each other. In a hybrid IT environment or multicloud, this can lead to extra work and error-proneness, as special programs and workarounds are needed.
As a new generation of job schedulers, modern WLA solutions are not only able to control on-premise structures, but also to automate and orchestrate hybrid IT landscapes due to the 'low code/no code' approach. Thus, scheduler silos are broken down and tasks, processes and workloads are controlled across landscapes. Native scheduling tools become redundant and can be centrally controlled using a single SSC solution as the platform. Event-driven scheduling enables agile execution of workloads only when they are really needed. Managed File Transfer also allows data to be transferred between the on-premise and the different cloud environments and automatically adjusted.
In summary, the hybrid cloud approach or hybrid IT structures offers companies the opportunity to implement their digital strategy in a scalable manner. Modern SSC solutions support the resulting new challenges through cross-landscape and cross-cloud automation and deliver centrally organized hybrid IT automation and control.
Schedule a live demo and learn how Workload Automation can help: