With more than 5000 participants, the DSAG Annual Conference in Leipzig recorded a new visitor record. The motto "Business without Borders – ERP of the Future" was even taken literally with the Lego construction workshops at the DSAG booth: participants were able to design their own "ERP of the Future" requirements and exchange ideas with others. A beautiful metaphor that demonstrates the continuing influence of DSAG on SAP's requirements for successful digitization.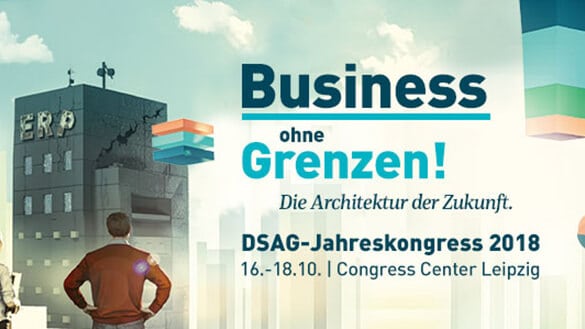 Eine klare Richtung der SAP
A clear direction of the future ERP, which should understand the needs of users, was also presented in the keynote by Bernd Leukert from SAP:
The intelligent SAP Suite is integrated in the core but is becoming increasingly modular in order to respond better to the uniform data model required by the users. Unlike other cloud platforms such as Azure, Google Cloud, or Amazon's AWS, modular data should be usable and extensible across applications.
Until then, it is important to have a clear path leading to this digital future. Therefore, the motto of many exhibitors at the 19th Annual Conference of DSAG was to build a bridge between cloud and on-premise, in order to guarantee business-critical processes in the transition into the cloud. On the one hand this means hybrid solutions, on the other hand migration scenarios from R3 to S/4HANA.
Hybrid Landscapes are Necessary, but also a Big Challenge
Our customers also have started building hybrids landscapes and have them further controlled with BatchMan. Particular challenges here are above all the various interfaces and the no longer uniform communication channels. Today, a hybrid process often emerges as a mix of SAP RFC calls, HTTP rest APIs, and command line interfaces. These are then addressed synchronously or asynchronously according to the system. Overall control, monitoring and alerting have become even more important than in a homogeneous SAP environment. It is positive, however, that the new opening of SAP enables real integration of all systems into the processes.
Control Hybrid Landscapes with HONICO Workload Automation
HONICO reacts on the demand for hybrid landscapes through central process automation and monitoring. Our product BatchMan is SAP S/4HANA certified and enables all SAP/nonSAP systems to be controlled centrally from S/4HANA.
More information about the hybrid BatchMan system architecture cure can be found here or just contact us.
You could not attend the DSAG Annual Conference? Here you will find all keynotes and presentation documents of the congress in German language: